Blue Ocean Robotics, the world's first Robot Venture Factory that develops, produces, and sells professional service robots for healthcare, hospitality, construction, and agriculture, has hired Carl Erik Skjølstrup as Vice President of Production, based on his experience from Vestas, LEGO, Newtec and recently Blue Workforce. During his studies in Japan in the 1980s, Carl Erik was hired by Lindø Shipyard to introduce Japanese robots in the environment which has since become the internationally renowned robotics cluster in Odense.

Blue Ocean Robotics' new Vice President of Production, Carl Erik Skjølstrup, is a recognized expert in production development. He has developed his expertise for more than 10 years at Vestas as Vice President of Engineering, 5 years at LEGO as Senior Director and most recently a couple of years as COO at Blue Workforce in Aalborg.

"I make sure that the production unit meets product development in the middle, so that time-to-market is shortened. With this approach we already have 70-80% of the production processes ready in the early stages of our development of new products. This makes the production process itself a core competence for Blue Ocean Robotics and ensures that our various venture companies' service robots go to market faster, and are produced efficiently and delivered on time," Carl Erik Skjølstrup explains.

"At Blue Ocean Robotics, every single robot in the portfolio is moved into its own subsidiary, also called a venture company, where a dedicated organization handles commercialization, global sales and growth. Blue Ocean Robotics continues to handle the development and production of the robots across all subsidiaries. Blue Ocean Robotics has come so far that there are significant production activities, and it requires an extremely experienced person to ensure that this production is optimized across all robots to ensure global sales. It is therefore great for Blue Ocean Robotics that Carl Erik has chosen to continue his career with us. We have great expectations for the collaboration and look forward to bringing our production to the next level over the coming years," says CEO, Claus Risager.

Carl Erik Skjølstrup was originally trained in marine engineering, but in the early 1980s he went on to study a Master in Engineering at a university in Japan. Here he met people from the Lindø Shipyard and agreed that he would work for them in Odense as soon as he finished his degree.

"The real originators of the collaboration between the university and the shipyard, which today has become the robotics cluster in Odense, was Carl Erik together with the then Development Director at the Lindø Shipyard, Torben Andersen, and professor John W. Perram. Carl Erik was the head of the robotics department at the shipyard for many years. He was responsible for all the new developments and innovations and is known and respected worldwide for these accomplishments," says COO/CRO Rune K. Larsen, Blue Ocean Robotics.

Carl Erik Skjølstrup still lives in Odense and is happy to be back in the local robotics cluster after many years in Jutland. He looks forward to use the saved transport time on more time with his four adult children and his great interest for sailing around Funen with base in the port of Kerteminde.

The production development which Skjølstrup is known for is paired with Industry 4.0 in a light version, which enables a flexible generic production architecture with internal and external suppliers. It can be be configured to suit the needs of all Blue Ocean Robotics venture companies. Furthermore, the production unit gets a so-called digital twin, where all data is collected and used to optimize flexibility, workflow and quality.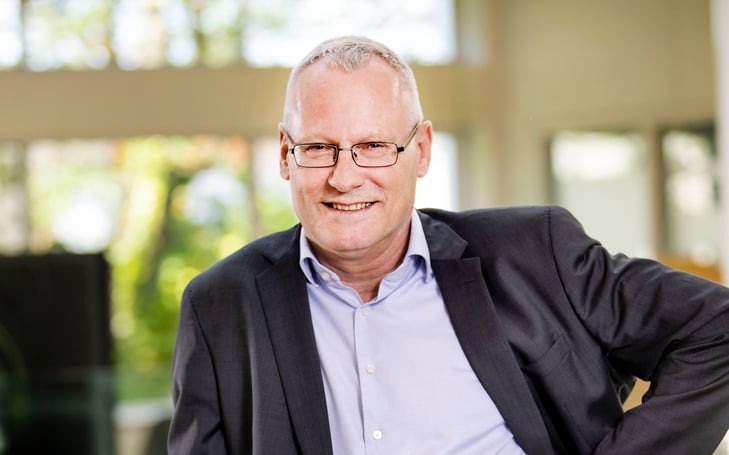 _______
For more information, please contact
Merima Cikotic, PR & Marketing Manager
T: +45 7199 5606 | E: mc@blue-ocean-robotics.com
About Blue Ocean Robotics
Blue Ocean Robotics develops, produces and sells professional service robots in healthcare, hospitality, construction, agriculture, and other global markets. The portfolio of robots includes brands like; UVD Robots, a mobile robot to disinfect hospitals and pharmacy industries; PTR Robots, a mobile robot for safe patient handling and rehabilitation; and a handful of other service robots. Blue Ocean Robotics develops the robots from problem, idea and design to development, commercialization, and all the way to exit. Each robot is moved into its own subsidiary- venture company, making Blue Ocean Robotics the world's first Robot Venture Factory. Blue Ocean Robotics has just won one of the robot industry's most prestigious international awards, the IERA Award 2019.

Access photos here.
Dansk version af pressemeddelelsen er her.