When the CEO of Blue Ocean Robotics, Claus Risager, turns 50 years old on the 22nd of November, we are dealing with a highly respected key figure in the robotics cluster in the city of Odense. The former center manager of the Danish Technological Institute's Center for Robot Technology and one of the driving forces behind RoboCluster – a recognized network of expertise in robotics and automation technology – can look back on more than 30 years with robots. His extensive experience from more than 100 robot projects he has initiated and implemented with a focus on developing and commercializing new robots, and his time as a consultant for EU in the robotics field, is used every day in his Robot Venture Factory, Blue Ocean Robotics.

Blue Ocean Robotics is – of course, when you know Claus – the world's first of its kind. Here, professional service robots are developed for use in hospitals, construction and agriculture. The robots can for example disinfect patient rooms in hospitals, thus prevent multi-resistant bacteria from infecting patients, staff and visitors. Therefore, these robots help prevent serious diseases and, in the end, save human lives. Other robots allow industry employees to work at remote locations, thus saving CO2 and aiding in climate change mitigation. Yet other of Blue Ocean Robotics' robots help sick children keep up with school from the hospital or from home by connecting to a robot that is located at the school. It allows children not only to be active during lessons, but also to join recesses and interact with others. Other of Blue Ocean Robotics' robots ensure a better working environment for hospital staff and provide patients better conditions by combining patient lifts and rehabilitation.

"It has been incredibly exciting to be part of the robot adventure in Odense. Right from the time I developed welding robots at Lindø Shipyard during my Ph.D on artificial intelligence and industrial robot technology and until today where we at Blue Ocean Robotics have developed all the technological "building blocks" so that we can create brand new mobile service robots faster, cheaper and better than competitors. When I started at the Danish Technological Institute in 1999, I was the only one working with robots. When I left the place 14 years later, we had roughly 100 people working with the area," says Claus Risager. In recent years, all his focus has been on advancing Blue Ocean Robotics to become a large and valuable company. The employment of more than 40 new people since 1st of September is a testament to a significant Danish robotics company in rapid development.
Triple Børsen Gazelle recipient Claus Risager's great business gene originates from an entire family of merchants. He was born in Herning on Jutland, and got experience with business and good customer service, when he got a permanent job in his parents' shop, Jyde Marked, at age 11. Jyde Marked was one of the country's leaders in the then brand-new genre, supermarkets. He later studied Applied Mathematics at Odense University, and is in his own words – a first-generation immigrant in Odense living in Morud. The merchant gene lives on in his and his wife Rikke's two children, Christian, 22, that studies business economics, and Victoria, 18, who is in high school.

Claus Risager is a sought-after speaker and board member. He has been honored numerous times, including with the "Erhvervsprisen Fyn" and Gunnar Gregersen Award, which he received in 2006 by her Royal Highness Queen Margrethe and then Prime Minister Anders Fogh Rasmussen for his groundbreaking work in robotics development in Denmark. This summer he received one of the world's most prestigious awards in the robotics industry, the IERA Award 2019, awarded by the world's largest professional tech organization, The International Federation of Robotics, IFR and The IEEE Robotics and Automation Society. The award was granted to Claus Risager and Blue Ocean Robotics for the development and commercialization of UVD Robots, the UV disinfection robot that increases patient safety by reducing the risk of contact with bacteria and other harmful microorganisms. With the UV disinfection robot, hospitals can guarantee a 99.99 % disinfection of patient rooms and thus a significantly reduced risk of hospital-related infections for patients, staff and visitors.

The IERA Award was barely placed on the shelf, before Blue Ocean Robotics announced the acquisition of all assets and rights to the Beam robot from the world-renowned company, Suitable Technologies, Inc. in Silicon Valley, which is subject to court approval in the United States. The head office of Beam will thus be moved to Odense and include at least 30 new jobs. Beam is one of the world's most known and popular telepresence robots, i.e. a mobile robot that allows users to connect into a remote location and have a presence there via a display, camera, and microphone placed on wheels that the user can physically navigate.

Claus Risager's birthday is celebrated in a private setting.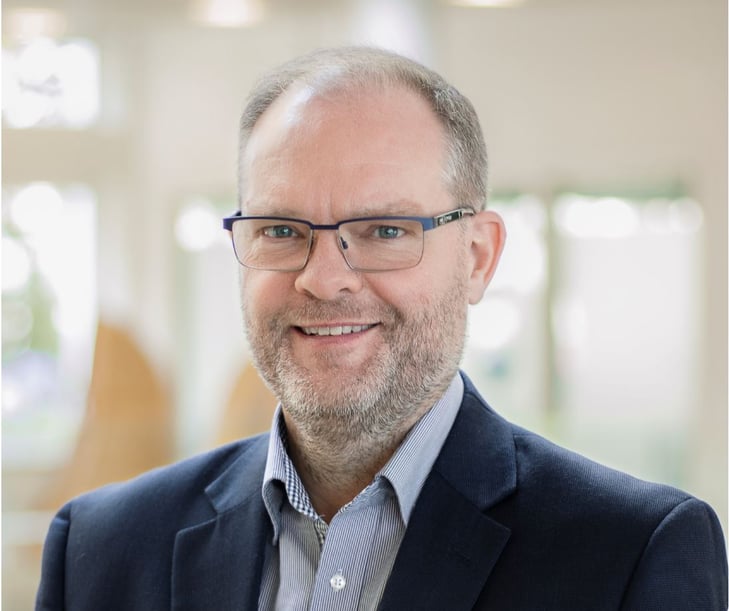 _______
For more information, please contact
Merima Cikotic, PR & Marketing Manager
T: +45 7199 5606 | E: mc@blue-ocean-robotics.com
About Blue Ocean Robotics
Blue Ocean Robotics develops, produces and sells professional service robots primarily in healthcare, hospitality, construction and agriculture. The portfolio of robots includes brands like; UVD Robots, a mobile robot for disinfection; Beam Robots, a mobile telepresence robot for communication, social inclusion and CO2 reductions; PTR Robots, a mobile robot for safe patient handling and rehabilitation; and a handful of other service robots. Blue Ocean Robotics develops the robots from problem, idea and design to development, commercialization, and all the way to exit. Each robot is moved into its own subsidiary- venture company, making Blue Ocean Robotics the world's first Robot Venture Factory. Among other things, Blue Ocean Robotics has won one of the robot industry's most prestigious international awards, the IERA Award 2019.
Access photos here.
Dansk version af pressemeddelelsen er her.