Shortly after the acquisition of a globally known Silicon Valley robot, the Danish company, Blue Ocean Robotics, has hired double ironman Kim Nørgaard Andreasen as CFO of the company that develops, produces and sells professional service robots, primarily in healthcare, hospitality, construction and agriculture.

Blue Ocean Robotics in Odense is experiencing strong growth. Within the last month, the company acquired one of the world's most known and popular brands in telepresence robots, the Beam Robot, and employed no fewer than 17 people with yet another 20 open positions to fill. At the same time, the administration was strengthened with a CFO - Chief Financial Officer, namely Kim Nørgaard Andreasen, who has 25 years of experience in finance and comes from a position as Group CFO at the listed company, Esoft. Kim Nørgaard Andreasen will ensure that Blue Ocean Robotics' subsidiary venture companies become financially mature in the next three to four years.

"I think that maturity journeys are exciting, and I have executed several of them, both as a manager in finance and as a CEO, among other places at Vitec Aloc. I look forward to helping realize Blue Ocean Robotics' strategy of not only being a development house, but also getting our subsidiaries ready for sale when they reach more value for others than for us. It is also no secret that we are doing an investment round later this fall, which I look very much forward to," says Kim Nørgaard Andreasen.

Kim Nørgaard Andreasen has a Master of Science in Business Administration and Auditing from the University of Southern Denmark, and is currently attending a board education focusing on SMEs at Aarhus University. Prior to working at Esoft, he was first CFO and then the CEO of Vitec Aloc, which he helped sell to a Swedish software company. He lives in Odense with his wife and two children. In his spare time, he does triathlons and has completed two ironmans and 10 half ironmans. The sport serves as both refuel and inspiration in his daily life:

"My workout is both a place where I rest my head after a long day, and where I get inspired by reaching a goal that at first glance looks very demanding. It provides a sense of security to know that I have succeeded several times," concludes the new CFO, who also admits that his sport is necessary because he enjoys both cake and good wine.

Explosive Growth in Odense
When Blue Ocean Robotics recently acquired the Silicon Valley robot Beam, it reverberated in the media as far away as China, Korea, Iraq, Brazil and Sudan. The acquisition of the Beam business resulted in around 1.000 global mentions, not least in the three leading U.S and robotics media, Huffington Post Global, Tech Crunch, The Robot Report and Robotics Business Review.

"After the acquisition, we have had phone calls from all over the world. Especially from customers and resellers from all parts of the world, not least the United States, where, for example, Obama has used the Beam Robot. We are now working on the exciting challenge of establishing a new setup for production and development, just as our sales, support and service teams need to be expanded greatly. So, we are very pleased that a strong player like Kim Nørgaard Andreasen has joined the team," says Claus Risager, CEO at Blue Ocean Robotics.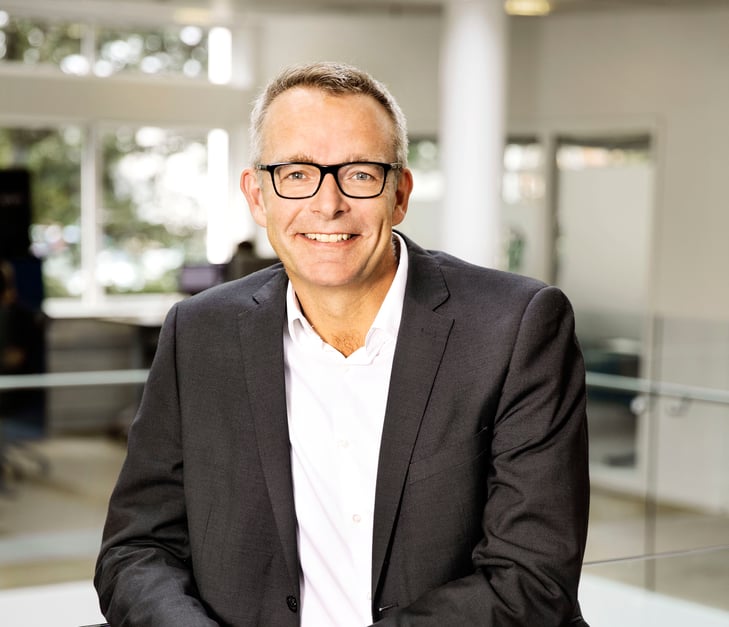 _______
For more information, please contact
Merima Cikotic, PR & Marketing Manager
T: +45 7199 5606 | E: mc@blue-ocean-robotics.com
About Blue Ocean Robotics
Blue Ocean Robotics develops, produces and sells professional service robots primarily in healthcare, hospitality, construction and agriculture. The portfolio of robots includes brands like; UVD Robots, a mobile robot for disinfection; Beam Robots, a mobile telepresence robot for communication, social inclusion and CO2 reductions; PTR Robots, a mobile robot for safe patient handling and rehabilitation; and a handful of other service robots. Blue Ocean Robotics develops the robots from problem, idea and design to development, commercialization, and all the way to exit. Each robot is moved into its own subsidiary- venture company, making Blue Ocean Robotics the world's first Robot Venture Factory. Among other things, Blue Ocean Robotics has won one of the robot industry's most prestigious international awards, the IERA Award 2019.
Access photos here.
Dansk version af pressemeddelelsen er her.