Compared to all robotics companies worldwide the Danish service robot group Blue Ocean Robotics is among the top 10 most innovative robotics companies. The assessment comes from the magazine Fast Company and places Blue Ocean Robotics on its annual list of the world's most innovative companies in robotics.

A robotics company from Odense, Denmark continues to attract attention globally. This is also the case at the international magazine Fast Company with over 39 million readers. The magazine has highlighted exactly Blue Ocean Robotics on its list of the top 10 most innovative robotics companies for their success with their UVD Robots.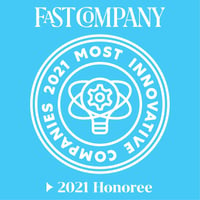 As to the reason behind the choice of the Danish disinfection robot manufacturer, the magazine notes: "UVD Robots, which makes autonomous disinfection robots for hospitals and is a division of Blue Ocean Robotics, played an important role in this year of COVID-19. Its robots use UV-C light that needs only 10 minutes in one room to kill 99.99% of bacteria and viruses on surfaces and in the air. The light destroys the DNA and RNA structures of any microorganism, including novel coronavirus, stopping its reproduction. UVD designed its robot for hospitals, but during the pandemic it's been put to use in elder-care facilities, schools, airports, airlines, hotels, pharmaceutical plants, and food and beverage companies in 60 countries, including the United States. The Danish company was honored by the American Society for Mechanical Engineers for its robot in 2020."

"In a year of unprecedented challenges, the companies on this list exhibit fearlessness, ingenuity, and creativity in the face of crisis," said Fast Company Deputy Editor David Lidsky, who oversaw the issue with Senior Editor Amy Farley.

"The greatest testimony of recognition to our service robots happens of course through the many orders we get from our customers worldwide. This is a sign of great trust in our clinically verified robots as a solution to their needs for disinfection and automation. When that is said, it also means a lot to us to get placed on such a prominent list of the world's best robotics companies. Something that you can only be proud of", notes Claus Risager, CEO at Blue Ocean Robotics.
International award sweeper and endorsement from the EU
It is far from the first time that Blue Ocean Robotics has gained recognition and honor for its technology and development. In the course of time, the company has been awarded with more than 20 distinctions. In 2021 alone the service robot group has gained international recognition in form of the award for "Best Covid-19 Response" from Verdict Medical Devices, as well as being appointed as "Soonicorn – Top Tech Startup In Denmark to Watch Out For" on the basis of a screening made by the international analysis concern Tracxn among Danmark's 2,500 technology entrepreneurs.

On top of this, an international endorsement to the company was made by the EU Commission when they chose UVD Robots to deliver 200 UV-disinfection robots for hospitals in the EU. The robots will contribute to mitigating the COVID-19 pandemic. UVD Robots has been assessed as the best choice in the EU Commission examination of different disinfection robots, where the technical quality, the maturity of the technology, the implementation friendliness, the response time on technical support, and maintenance is looked upon.

Besides developing disinfection robots, the Blue Ocean Robotics Group also develops other types of service robots, like telepresence robots under the brand GoBe Robots and transfer and rehabilitation robots under the PTR Robots brand.

About Blue Ocean Robotics: Award Winning Robot Venture Factory
Blue Ocean Robotics develops, produces and sells professional service robots primarily in healthcare, hospitality, construction, and agriculture. The portfolio of robots includes the brands; UVD Robots, a mobile robot for disinfection; GoBe Robots, a mobile telepresence robot for communication social inclusion and CO2 climate improvements; and PTR Robots, a mobile robot for safe patient handling and rehabilitation. Blue Ocean Robotics develops the robots from problem and idea all the way to scale up. Each robot is placed in its own subsidiary-venture company, making Blue Ocean Robotics the world's first Robot Venture Factory.
_______
Company contact:
Echo Gu, VP of Global PR & Marketing
T: +45 23 20 28 88| E: eg@blue-ocean-robotics.com

Access photos here.
Dansk version af pressemeddelelsen er her.
Follow Blue Ocean Robotics here.