The Danish mink farms can look forward to increased revenue of a quarter of a billion a year when a new, revolutionary feeding robot from Hedensted Group arrives on the market in 2020. The new robot is expected to cut 80% of the expensive labor costs spent on feeding. At the same time, it is far greener for the environment than current solutions and ensures increased animal welfare with more frequent feeding and better monitoring of animal health. The robot is developed in a collaboration between Hedensted Group and the Danish company, Blue Ocean Robotics, that recently received the robot industry's Oscar, the IERA Award 2019.

"With our new feeding robot, HG Robo Feeder, we expect that mink farmers can collect 20 DKK more per fur, primarily because of lower labor- and energy costs. This will increase the total earnings in the Danish mink industry by a quarter of a billion DKK a year, while also improving animal welfare and provide a much greener profile," explains Jens Jørgen Madsen, chairman of the board at Hedensted Group and member of the owner family. He continues:

"We consider the new feeding robot to be an important project in relation to maintaining and defending Denmark's leading position in the mink industry, despite the high Danish salaries. Since it is simple to operate, we expect high sales of HG Robo Feeder, especially here in Denmark, but also in foreign markets. We expect that in five years at least half of the Danish mink are fed by the robot. The financial side is simply too good to let go of this opportunity for increased income, improved animal welfare and more environmentally friendly production."

The financial gain comes from the fact that man-hours for feeding are expensive, not least on weekends. The green gain comes from the robot running on eco-friendly electricity instead of the diesel-based feeding machines used today. At the same time, it uses 80% less energy than current solutions. Finally, the robot can feed more often and in better accordance with the animals' nature and at the same time you can get a better overview of the animals' health, because the robot immediately detects if they have not eaten.

"In additional to the benefits in animal welfare, economics and environmental friendliness, we expect to see some of the same benefits we see in the automated feeding of pigs. However, we need some time to pass to be able to put specific numbers on it," says Jens Jørgen Madsen and continues:

"HG Robo Feeder is the most expensive development project we have ever embarked on. But when we look at the mink farms, the efficiency over the past few years has increased exclusively on the fur. So, it's time to automate on the farms. We look forward to presenting and showing HG Robo Feeder at the TEMA DAG event on the 24th of October in the city of Hedensted."

Hedensted Group has worked closely with Blue Ocean Robotics, that develops professional service robots primarily in healthcare, hospitality, construction and agriculture.

"Blue Ocean Robotics has a fantastic collaboration with Hedensted Group, and that is also the reason why we have been able to create this groundbreaking news for the mink farms. It takes great ingenuity, professional deep insight into the industry as well as technological competencies at a high level to be able to create a robot like the one we are now showing. It is really unique. At the same time, we are thrilled to be able to help create better jobs for employees in the mink industry through a healthier work environment and higher productivity, as well as being able to create better animal welfare by being able to adapt the feeding to the animals' nature," says Claus Risager, CEO at Blue Ocean Robotics.

The collaboration with Hedensted Group is of great strategic importance to Blue Ocean Robotics. With the newly developed technology, the company can now create other new mobile robots for outdoor applications, which in particular in the construction area is expected to create great value.

"From the very beginning the technology was built in a way where we can reuse it in some of our other robots, that are just waiting to be developed and commercialized. Overall, it significantly increases the value and potential of Blue Ocean Robotics," concludes Claus Risager.

The new feeding robot is expected to be ready for testing in the spring of 2020, and is expected on the market in autumn 2020.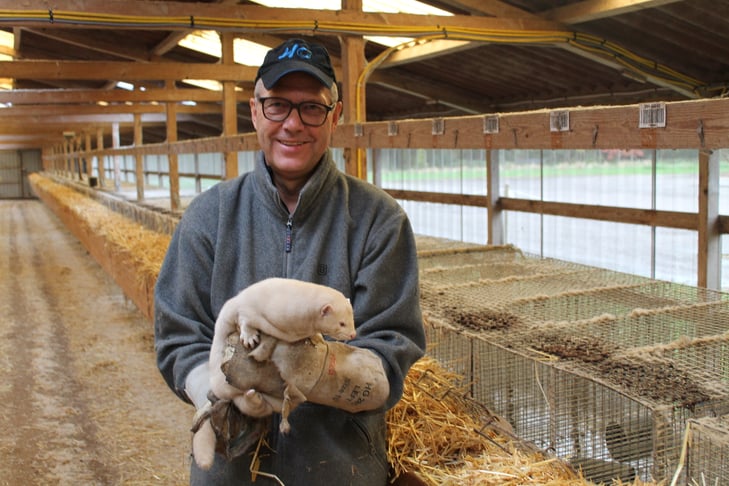 Jens Jørgen Madsen, Chairman of the Board of Directors at Hedensted Group, is holding a mink
The Feeding Robot for Mink and Claus Risager, CEO at Blue Ocean Robotics.

_______
For more information, please contact

Jens Jørgen Madsen, Chairman at Hedensted Group
T: +45 7589 1244 | E: jjm@hedensted-gruppen.dk

Merima Cikotic, PR & Marketing Manager
T: +45 7199 5606 | E: mc@blue-ocean-robotics.com
About Hedensted Group
Today, Hedensted Group A/S is one of the largest suppliers of products and services in the fur breeding industry, both nationally and internationally. Founded in 1971, Hedensted Group is a family owned company that today also includes manufacturing operations in Poland as well as an extensive global dealer network.

About Blue Ocean Robotics
Blue Ocean Robotics develops, produces and sells professional service robots primarily in healthcare, hospitality, construction and agriculture. The portfolio of robots includes brands like; UVD Robots, a mobile robot for disinfection; Beam Robots, a mobile telepresence robot for communication, social inclusion and CO2 reductions; PTR Robots, a mobile robot for safe patient handling and rehabilitation; and a handful of other service robots. Blue Ocean Robotics develops the robots from problem, idea and design to development, commercialization, and all the way to exit. Each robot is moved into its own subsidiary- venture company, making Blue Ocean Robotics the world's first Robot Venture Factory. Among other things, Blue Ocean Robotics has won one of the robot industry's most prestigious international awards, the IERA Award 2019.
Access photos here.
Dansk version af pressemeddelelsen er her.