At the prestigious international BOLD AWARDS event in Venice, the Danish developer of service robots – Blue Ocean Robotics – won in the robotics companies category. A total of 500 companies in 20 categories competed for the coveted statues. The nominees were evaluated according to the following criteria: impact, scalability and transparency, yet also for a criterion called the 'H factor' for Human & Social, where the Danish winner received top marks for its user-friendly service robots. The reason for this is because Blue Ocean Robotics develops its robots in collaboration with users, which ensures that the technology is based on daily workflows and assists in tasks such as disinfection, rehabilitation and telepresence.

For more than a century, people have been dreaming of getting robots to do all the dangerous, burdensome or dirty work. The Danish company Blue Ocean Robotics has been ambitiously working for the past decade to develop intuitive professional service robots for the benefit of users and is now one of the biggest manufacturers of service robots in Europe. Once again, the company is being acclaimed for its robotic solutions by receiving a BOLD Award as the boldest robotics company in the world. Blue Ocean Robotics has already received 17 other awards for its endeavors, as either a winner or finalist.

"People use our robots to change the way they work, which makes their jobs more meaningful and rewarding. At the same time, service robots are part of the solution if you need to increase productivity in the labor market without undermining the working environment or the level of service provided", explains Claus Risager, Founder and Chief Strategy Officer, Blue Ocean Robotics.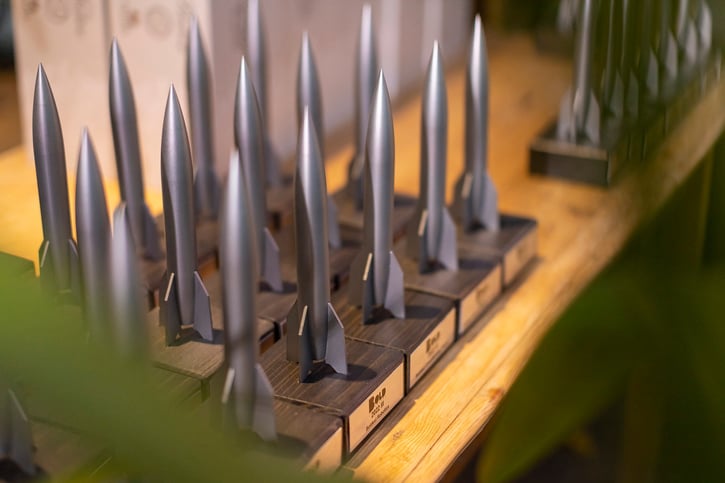 Blue Ocean Robotics received top marks with an overall score of 99.1% for its user-friendly service robots, UVD Robots, GoBe Robots and PTR Robots.
Specifically, Blue Ocean Robotics' range of mobile robots help staff optimize disinfection, telepresence and safe transfer and rehabilitation of patients. The company's diverse clientele ranges from the commercial cleaning company ISS, to pharmaceuticals, schools, airports, hotel chains, manufacturing companies and shopping centers.

"Blue Ocean Robotics distinguishes itself from other operators in the market by developing all the technological 'building blocks' for mobile service robots, which combined creates greater value for the customer. This enables us to produce new types of robots – faster, cheaper and better than our competitors", says Janus Doré Pagh, CEO, Blue Ocean Robots.

The BOLD Awards event celebrates companies and/or projects that create global breakthroughs. The robotics category celebrates the most innovative, valuable solutions on the market. The award winners are selected by means of an initial online voting process among 500 nominees, who are narrowed down to five finalists in each category. After this, an international jury selects the winners from among the finalists. The winners were announced in H-FARM, an internationally recognised environment for start-ups and scale-ups in Venice.

This is a list of all the winners and their categories at the BOLD Awards 2022:

Boldest Robotics: Blue Ocean Robotics
Boldest Crowdsourcing: Roamler
Boldest Marketplace: Borrow A Boat
Boldest Crowdfunding: MIEEG
Boldest Remote Working Company: Destinus
Boldest Sustainability: Forever Chocolate
Boldest Agritech: Austin Data Labs
Boldest IoT: EcoSteer
Boldest Space Frontier: Destinus
Boldest FinTech: Novus
Boldest Young Achiever: LoanXchain
Boldest AR/VR: AR mobile navigation at the Technical Museum Vienna
Boldest Cybersecurity: Transport Encrypted Protocol (TEP)
Boldest Crypto: Venly
Boldest Mobility: Virtuo
Boldest AI: Hydra Project
Boldest Science: FundamentalVR
Boldest Design: Ambrosi Srl
Boldest Open Innovation: Moscow Accelerator
Boldest Social Impact: My Best Village
_______
Company contact:
Merima Cikotic, Head of PR & Marketing
T: +45 7199 5606 | E: mc@blue-ocean-robotics.com
Access photos here.
Fotos from Bold Awards.

Dansk version af pressemeddelelsen er her.
Follow Blue Ocean Robotics here.